Monday, July 25, 2011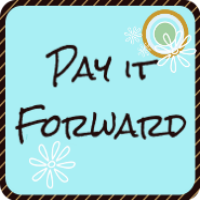 Here at "Pay It Forward," we are eager to show off talent in the blogosphere. If you've come across someone you would like to promote to fellow bloggers and blog readers, write up a little something giving us the nut and bolts, and enter your link promoting this person, post, or website, etc., below.
My "Pay It Forward" this week:
I have a friend who always delights me. She challenges my mind, enlightens my thinking, and amazes me with her ability to be honest and forthright in her discussions. I've never met this gal in person, but through her writing, I have grown in my faith, and in many, many other ways, too.
She has an inexhaustible thirst for knowledge, as is reflected in her writing and topics on her blog, and I always enjoy visiting her cyber-space home. When I stop over at her place, I find engaging conversation, vast resources, something to stimulate my brain, or my heart. Please visit my friend Joan @
Oh Beauty Ever Ancient Ever New
, read the story of how she
named her blog
, find out
about her
history, check out the hundreds of resources on
her sidebar
(pace yourself), and enjoy getting to know her through her informative, engaging and honest commentary. Oh, she also posts over at the
Catholic Association of Women Bloggers
. So you can
find her there, too
!
I'm also posting a little slideshow today. We acquired a new camera this week. It's going to be a peanut-butter-and-jelly month, but I think it's well worth the sacrifice. So, since recently, I've been sharing all the challenges I encounter in my yard, I thought today I'd share some of the more inspiring points—as captured through the lens of our new camera.